The Malaysia Technology Excellence Awards spotlights exceptional companies who are leading technological disruptions to boost Malaysia's economy. TM R&D CEO Dr. Sharlene Thiagarajah (right) virtually accepts the awards from Simon Hyett, Contributing Editor of Singapore Business Review
TM R&D's Customer-Focused Innovations Recognised At The Malaysia Technology Excellence Awards
In-house smart solutions for Fixed Wireless Access connectivity and customer experience platform for frontliners awarded under "Connectivity-Telecommunications" and "AI-IT Services" categories respectively
Telekom Research & Development Sdn Bhd (TM R&D), the innovation arm of Telekom Malaysia Berhad (TM), recently bagged two awards at the Malaysia Technology Excellence Awards 2022, organised by the Singapore Business Review.
The Malaysia Technology Excellence Awards spotlights exceptional companies who are technology disruptors that boost Malaysia's economy. TM's Fast Internet for All (FIRA) solution was bestowed the award under the "Connectivity-Telecommunications" category, whilst TM's Single Platform on Intelligent Customer Experience (SPICE.ai) won the award in the "Artificial Intelligence (AI)-IT Services" category.
Commenting on these awards, Dr Sharlene Thiagarajah, Chief Executive Officer, TM R&D said, "I couldn't be prouder of my team as these awards reflect their commitment to meet the fast-evolving digital needs of today's customers and strengthen our position as a research leader in these fields. This recognition also reaffirms our efforts in building smarter digital ecosystems to facilitate the ease with which Malaysians can embrace a more digital lifestyle, whilst also bringing progress to the nation."
​
FIRA was introduced as a way to support the government in providing Malaysians with quality access to digital connectivity nationwide. Aimed at offering better internet service to underserved communities, FIRA uses Fixed Wireless Access (FWA) technologies to improve connectivity in rural areas across Malaysia. Since its first deployment in Malacca back in July 2020, the solution has demonstrated promising success in improving download and upload link speeds compared to other broadband services. The solution has since been implemented at a rural school in Selangor and at Pusat Komuniti Desa sites under the Ministry of Rural Development. It has also supported an IR4.0 use case in Terengganu.
"FIRA is formulated to address two common issues: coverage and speed. The solution is capable to deliver connectivity up to 50Mbps within a 5-8km range, compared to a traditional 4G cell within a 1km range. Furthermore, with its quick deployment procedures, FIRA can help mitigate customers' connectivity concerns in a cost-effective and timely manner," shared Dr Sharlene.
​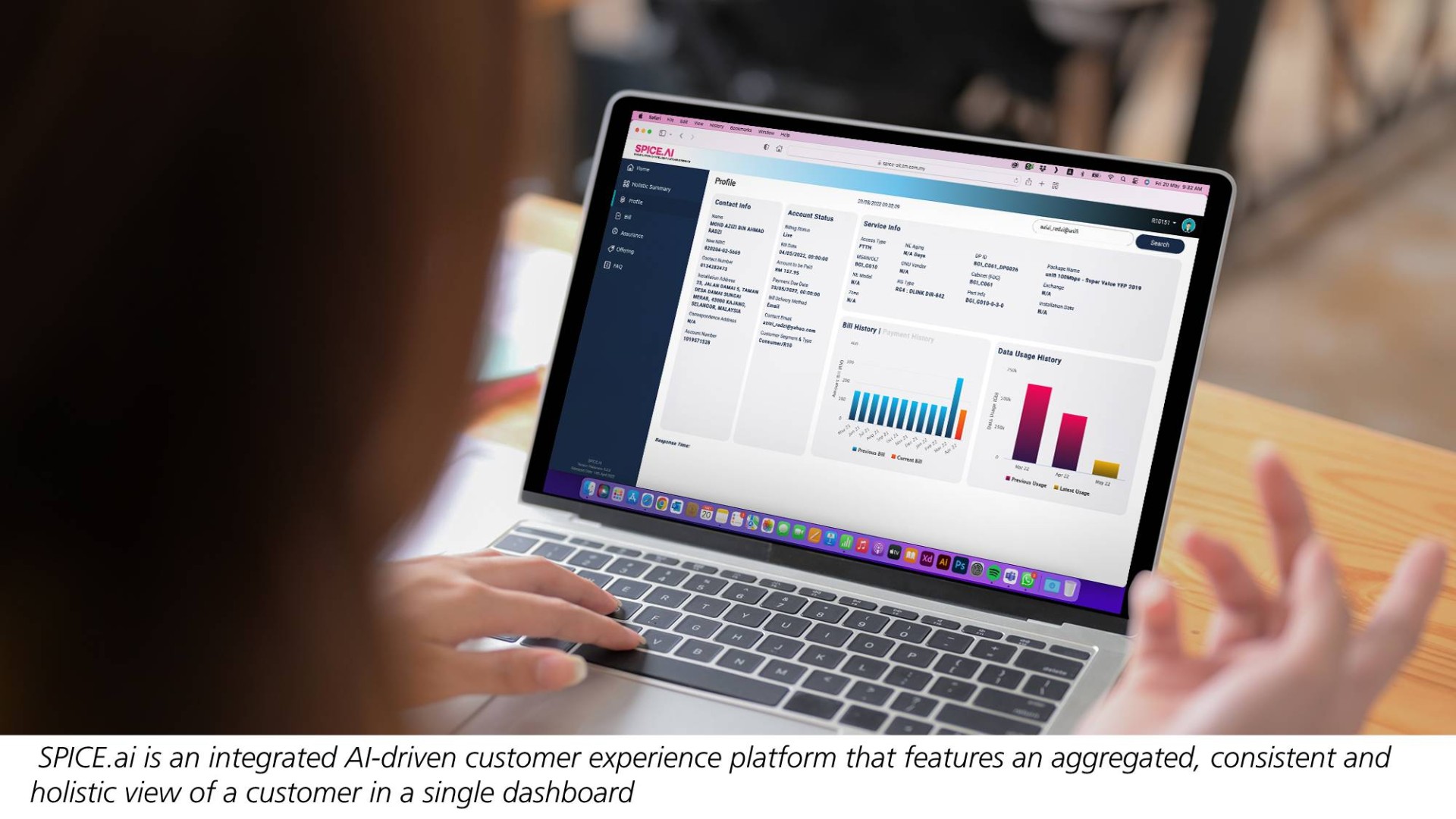 SPICE.ai, on the other hand, aims to assist frontliners in their daily task of addressing customer service enquiries and requests.
Dr Sharlene explained, "SPICE.ai consists of multiple components that cover different parts of an existing customer experience system. By integrating these components, frontliners gain a more holistic view of each customer's profiles. The solution then implements real-time analytics to improve customer experience, giving frontliners the right information at the right time which allows them to deliver a better experience to customers."
This analytics system has been deployed nationwide for nearly two years and becomes the primary touchpoint for more than 5,000 TM frontliners in most customer interactions across multiple channels. The performance of SPICE.ai has proven to be reliable and seamless even when integrated with more than 20 existing, standalone systems and was still able to relay the processed information through one single platform, on top of providing analytics and advisory.
Established in 2001, TM R&D is the innovation arm of TM Group focusing on creating smarter ecosystems to make business and life easier for a better Malaysia. TM R&D's solutions are clustered around four pillars namely Intelligent Platforms, Data Brokerage, Connectivity/Tools, and IR4.0/Digital Solutions. Growing from strength to strength, TM R&D has won multiple global awards and generated more than 2,800 Intellectual Property Rights (IPRs) and 1,400 digital assets to date. TM R&D's innovations are developed in-house and cut across multiple industries such as Utilities, Retail, Agriculture, Healthcare, and Education, with safety and productivity as its top priority.
For further information on TM R&D, visit www.tmrnd.com.my or email [email protected]