Bank of China is one of the four banks listed in the fourth bucket.
China deems 19 banks 'too big to fail'
These banks face new capital and regulatory requirements.
China has deemed 19 banks "too big to fail" and required them to increase their capital requirements, a move that aims to strengthen the resilience of the country's banking system.
The People's Bank of China placed the "domestic systemically important banks" or D-SIBs in four buckets in order of their systemic importance. These 19 institutions account for over 60% of system banking assets as of June 2021, according to a report by Fitch Ratings.
The big four state-owned banks occupy the fourth and highest bucket: Industrial and Commercial Bank of China (ICBC), Bank of China, China Construction Bank, and Agricultural Bank of China. These four global systemically important banks (G-SIBs) do not face additional D-SIB capital requirements relative to their G-SIB minimums, Fitch noted.
The four are required to maintain a minimum CET1 ratio of 8.5%. As of end-June 2021, the banks' CET1 ratios fall between 10% to 13%.
Bank of Communications, China Merchants Bank, and Industrial Bank occupy the third bucket and are required to maintain a minimum CET1 ratio of 8.25%.
Banks ranked in higher buckets are more likely to receive extraordinary government support if necessary, according to Fitch. This comes as China braces for a rise in bad loans in the near future. As of June, outstanding non-performing loans in the banking sector totalled more than $540.7b, according to data from the China Banking and Regulatory Commission (CBIRC).
Four banks made it to Bucket 2, where they face a minimum CET1 ratio of 8%; and eight banks are listed under Bucket 1, where the minimum CET1 ratio is 7.75%.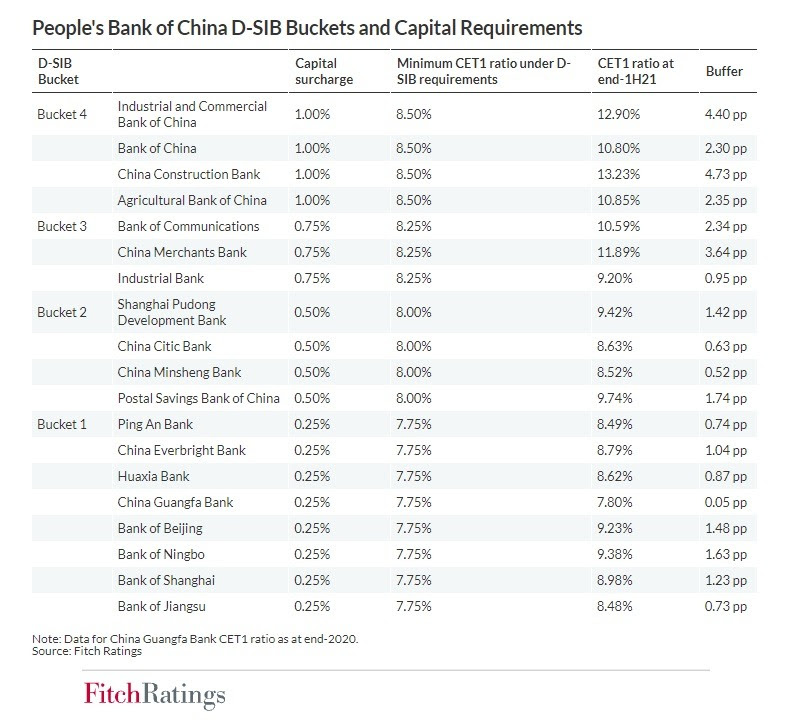 Fitch analysts noted the relatively low bucket ranking of Postal Savings Bank of China (PSBC) and China Everbright Bank, saying that whilst not listed in higher buckets, they are still likely to receive support from the government if necessary.
"Our assessments also consider PSBC's quasi-policy role in providing banking services to China's rural population and in supporting its parent, China Post Group, and the provision of past state support and ownership structure for CEB," the ratings agency added in the report.