Project Sustainable Future: How the Filipino market relates to Allianz PNB Life's purpose-driven marketing
The initiative won the Philippines Brand Experience of the Year - Life Insurance at the Asian Experience Awards 2021.
One of the long-standing issues of the Philippine insurance industry is the attitude—or lack thereof—of Filipinos toward having insurance policies. For most, it is not intrinsic to think of insurance automatically, despite the industry's existence in the country for decades.
As the COVID-19 pandemic further exposed these ordeals, Allianz PNB Life Insurance rose to the occasion and introduced its Project "Sustainable Future" to differentiate itself from other insurance companies through sustainability. The project targets the younger Filipinos through digital means, and connecting such objectives to its mission to "Secure your future."
For Allianz PNB Life, what is being communicated by other insurance companies, as well as how it is being communicated, is similar from a branding perspective. With their competitors' communications being homogenised, the company took advantage of such a situation to launch their initial brand campaign salvo whilst connecting its purpose-driven marketing to its company-wide sustainability initiatives.
The Project Sustainable Future had three major campaign pillars, all of which aimed to establish the differentiating factor of sustainability for Allianz PNB Life and to achieve a significant reach and awareness to its audiences.
Amongst these is Allianz Ride Safe, a corporate social responsibility (CSR) activity aimed to highlight the meaning of sustainability by building a cycling culture amongst Filipinos via infrastructure, education, and promotion. This is due to the uptick of cyclers since public transportation became challenging during the onset of the pandemic.
There have been two major Ride Safe initiatives as of current time, one with San Juan City and one with the City of Manila.
As part of the project, the cities were provided with creative bike racks, bollards for cyclists' bike lanes, and a solar-powered pitstop and rest/repair station where cyclists can stop to take a breather and do repair work on their bicycles via the provided air pump and bicycle tools.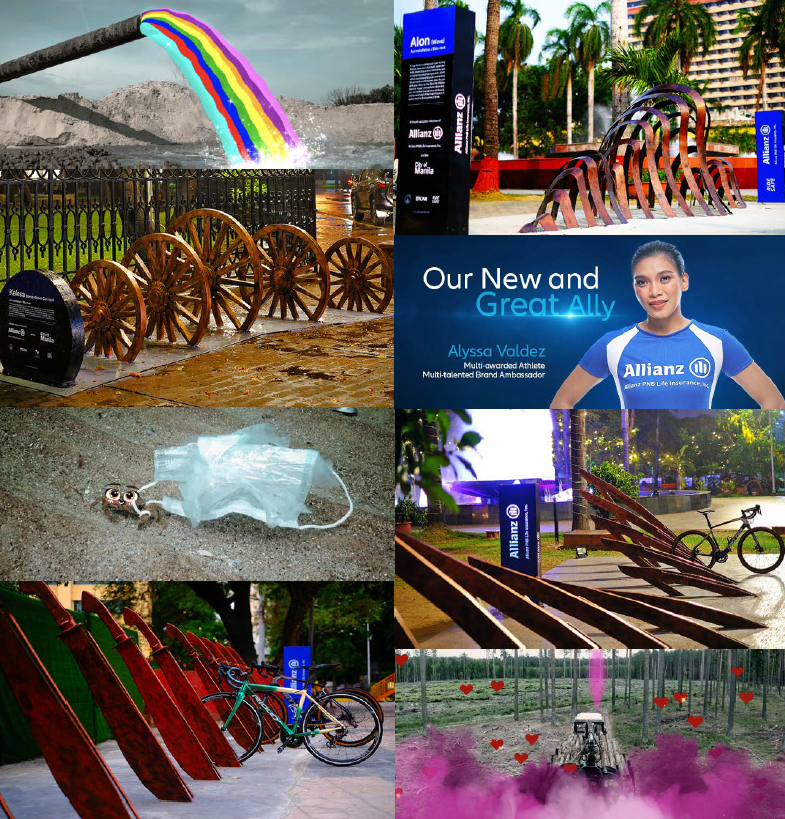 Meanwhile, Allianz PNB Life released its "No Filter" video, referencing the use of filters in social media, and contrasting it with the message that environmental problems cannot be hidden in well-taken photographs and videos. The video amassed 2.8 million combined views on YouTube and Facebook, with a very high engagement rate of 42%.
"Sustaining content on our social media is maintained by highlighting other environmental and sustainable practices the company has done both locally and abroad, underlining the dedication of Allianz PNB Life to its mission," the company said.
To ground the CSR and content marketing campaign of Allianz PNB Life, they partnered with popular Philippine volleyball player and celebrity Alyssa Valdez, a perfect representative of the Millennial and Gen Z market, someone who is locally looked up to and followed by Filipinos of all ages.
Valdez's endorsements on her social media pages, as well as her other endeavours, also helped create a wider reach for Allianz PNB Life and its services in the Philippines due to her large follower base.
These initiatives allowed Allianz PNB Life to stand out amongst its competitors and to secure the Philippines Brand Experience of the Year - Life Insurance at the Asian Business Review's Asian Experience Awards 2021.
"Even if building a brand and its experiences takes time, we believe that this can be accelerated through the strategic use of this constant, relevant messaging to the market, which will then translate into greater interest in our products," the company concluded.
Watch the interview below to know more about their winning project: