Real estate trends to watch for new proptech ideas
These trends open more opportunities for property technology.
There is no doubt that digitalisation, which grew at a much faster rate in the past year, played a major role in the survival of the real estate industry. At this point, it is only expected that the industry will see more new technology in some way or form.
Spaceworx CEO Lakshita Wijerathne said the health crisis served as a catalyst for digitalisation as enterprises were forced to determine ways in managing corporate systems with minimal physical interactions.
In light of this, Wijerathne identified key trends that will open opportunities for property technology beginning with hybrid workplaces. Demand for hybrid offices, a key trend that emerged during the crisis, will likely remain strong in the next year, along with the need to build flexible spaces.
"We see that this is going to stay, this hybrid workplace is becoming the new norm, we need to embrace it. With technology, lots of these things can be sorted. We see that this is going to be one megatrend," he told Singapore Business Review. "And it's going to evolve. The demand is going to increase."
The same goes for flexible buildings and architecture in general, which will allow businesses to maximise the use of space. He shared he has seen school gymnasiums or classrooms that can be converted into dance or yoga studios.
He said these trends will not just rely on the structure of the building, but also on technology, which the property technology (proptech) industry could ride on through digital tools and software.
Another trend that Wijerathne identified is the reliance of consumers on services.
"Everything is a service. You don't want to own a car. But you will be happy to pay for the ride," he explained.
"This trend is not limited to technology, not limited to software. It is getting widespread adoption. You only pay for a service, not for an asset."
He added this could happen in the real estate industry eventually. For instance, building owners might prefer to pay for the service of maintaining building management systems or lighting control systems instead of setting it up on their own.
Moreover, Wijerathne said the real estate industry might also lead to a demand for predictive maintenance and operations. He said through advanced technology and IoT, the software could be designed to analyse systems to determine whether maintenance tasks are needed or not.
"You can start predicting the behaviour of your equipment, behaviour of your lift system, air conditioning system, the chiller system, and then predict and say, as per the current use, you don't need to do this maintenance every three months, maybe you can postpone it by six months," he said, adding that Spaceworx has observed a growing demand for predictive maintenance and smart facility management solution.
Spaceworx, fully owned by Eutech Cybernetics, recently launched a digital marketplace that provides "pre-built workflows, integrations and dashboards," the first in Singapore. Spaceworx offers curated solution bundles that include multiple proptech products and services.
Amidst the strong demand for proptech, Wijerathne said Spaceworx found that a major pain point in the business is in the clients' process of procurement. At this stage, he said, clients experience difficulty in deciding the smart solution suitable to their needs.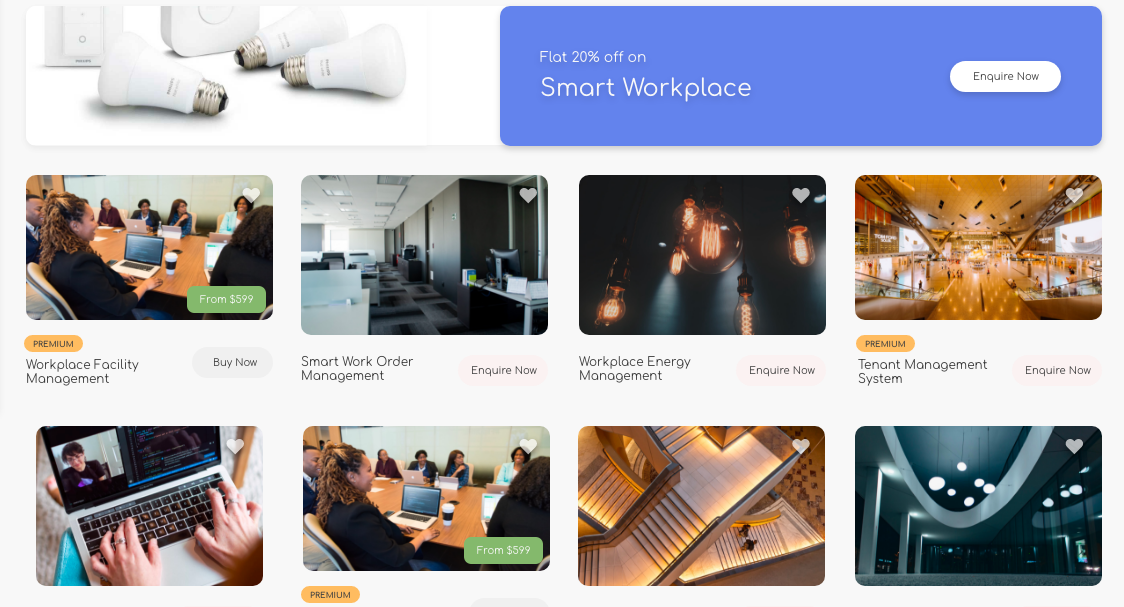 ​
"The client has a vague notion of what he or she wants, but they will struggle to figure out what to buy, how to integrate, and put this solution into action," he said.
Spaceworx addresses this not just with their pre-built bundles, but also through various support services they offer. This includes procurement support, in which they provide consulting services to consumers.
They also offer order fulfilment support, in which they coordinate with other services providers on behalf of the clients, and lifetime support through which Spaceworx allows clients to reach them when they encounter trouble in implementing the smart solutions.
Today, Spaceworx has onboarded more than 400 products, giving consumers a wide range of options. Wijerathne noted the company aims to bring this number up to over 10,000 products within the next two years.
It has also launched projects in 15 countries, including Australia, Malaysia, and other parts of the Middle East and Central Asia.
Spaceworx plans to ramp this up to 100 over the same period. He said the company is now in talks with potential partners based in the US.