Staff Reporter
,
Australia
Infosys wins big for Australian Open 2021 digital innovation partnership at Asian Experience Awards
It received praise for bridging physical and virtual tennis with its digital experiences.
Using digital as an equaliser to bridge the physical gap, Infosys and Tennis Australia opened new possibilities by leveraging cloud, artificial intelligence (AI), 3D virtual experiences and mobility.
The innovations paved the way to alter the sporting norm well beyond the Grand Slam's pandemic impacted 2021 edition and represented a shift towards placing digital at the core of the tournament to elevate immersion, passion, and experience for fans, players and partners.
Infosys, a global leader in next-generation digital services and consulting as the Australian Open's Official Digital Innovation Partner, was awarded the "Australia Digital Experience of the Year - IT Services" in the recently concluded Asian Experience Awards for its digital technology that further enhanced tennis experiences for those both onsite and watching remotely..
The awards recognise the ingenious initiatives of creative companies delivering meaningful brand experiences to their stakeholders in all industries in Asia.
As a digital innovation partner for the third year running, Infosys optimised engagement with all Tennis Australia stakeholders. The focus for Australian Open 2021 was to deliver new digital experiences and insights that are accessible for everyone involved, regardless of location. This was particularly important during the pandemic, which resulted in caps on in-person attendance and prevented international attendance due to travel restrictions.
The 3D Court Vision feature allowed individuals to watch tournament matches in animated form, with data overlay for each shot. From speed to spin to serve placement, every detail of the game was available at a click of a button. Infosys used Hawk-Eye data to animate each shot in near real-time and empowered fans to analyse the game from any vantage point in the stadium.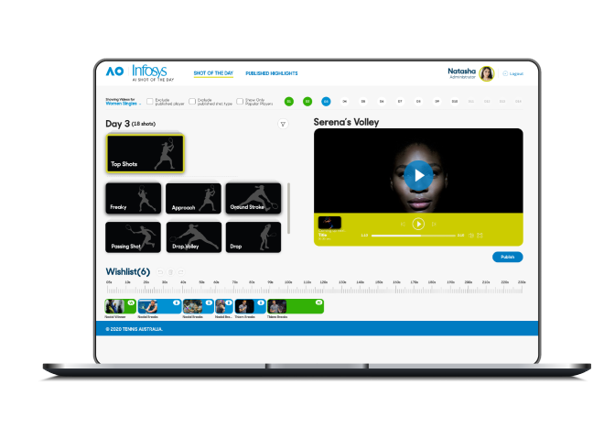 AI shot of the day
With the new AO Virtual Slam desktop experience, every fan was transported into Rod Laver Arena. The 3D court views and data simulated the experience of playing at the AO, letting fans be a part of the glory.
An enhanced AO Fan App also delivered richer content and personalised journeys based on user interest areas, whilst guided navigation helped fans find their way within the new Melbourne Park zones set up due to COVID protocols.
In the dedicated AO player and coach app, the AI Video Analysis feature brought new intelligence to the hands of all players and their teams, regardless of rank. The AI tool allowed precise player and opponent assessment. This feature allowed coaches to provide guidance remotely by sharing live strategy notes in the app.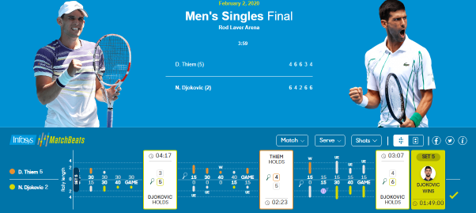 AO MatchBeats
AO Virtual Hub was also developed to overcome physical restrictions for partners and sponsors, powered by Infosys Meridian. It was built to host over 12,000 VIPs across the globe during the tournament and deliver engaging tennis, food, shopping and music experiences for AO's partners.
Included in the brand outreach program for Infosys was prominent sidewall advertising and innovative in-match stats branding at AO 2021 broadcasted to 210 territories which reached more than 900 million homes daily.
There were more than six million video views on the AO app and website and garnered a total of 19,489 sessions, whilst Infosys AO Virtual Partner Hub had 735 hours of live feed action from the player arena, practice courts, and press room.
Andrew Groth, Executive Vice President, Infosys and Region Head, Australia and New Zealand said, "We are proud to be recognised by the Asian Experience Awards for our work as part of our Digital Innovation Partnership with the Australian Open. For us, this partnership is about digital providing greater access to the wonderful sport of tennis and helping to build it into a truly global and inclusive game. The role of digital was critically important for the 2021 Australian Open in helping to maintain engagement with fans and partners as the pandemic made it incredibly difficult to attend in person."
Watch the interview below to know more about their winning project: