Astra wins 2 accolades at the Asian Technology Excellence Awards
The company gained recognition for its system Enterprise Software and enterprise mobile application which both improved performance and customer satisfaction.

PT Astra International Tbk (Astra), one of Indonesia's largest public companies, bagged two accolades at the Asian Technology Excellence Awards for its breakthrough innovations in the Automotive Services Industry. It won the Indonesia Technology Excellence Awards for Enterprise Software - Automotive Services for its system which streamlines its operations. Astra also clinched the Indonesia Technology Excellence Award for Mobile - Automotive Services for its enterprise app store and its enterprise mobile application.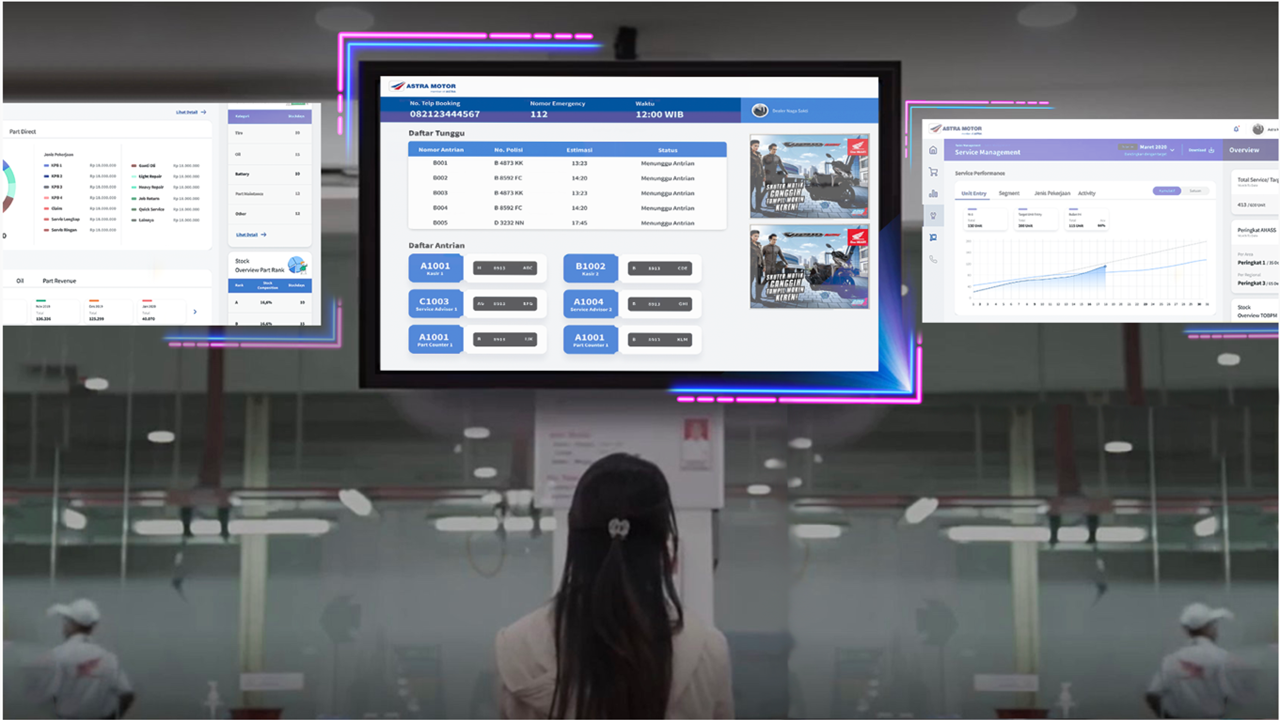 Capitalising on the accumulation of experience in enterprise-wide ERP implementation in Astra Automotive Sales Operation since 20 years ago, Astra developed a new automotive Dealer Management System using the new technology of cloud-based microservice that breaks down the monolithic structure to provide flexibility, scalability, and ease of updates and enhancements. It also enables the system to quickly adjust to the evolving market needs and trends to cater aptly to their demands.

This endeavour took Astra 2 years to digitally transform the whole Sales Operation business process to be more customer-oriented and insightful for the frontliners into the new enterprise application which is more agile and scalable.
This new ERP system adopted a modern microservices architecture and 2 times faster to develop compared to the previous Dealer Management System by utilising many native cloud technologies. Launched in November 2022 following rigorous testing and quality assurance processes, The Enterprise Software utilises the latest .NET Core Framework from Microsoft that offers robust features, and performance enhancement, allowing a seamless processing of large volumes of data.

Aimed at enhancing customer experience, This Enterprise Software can handle a massive workload that can support millions of Application Programming Interface calls daily and accommodate its active base of users with over 20,000 concurrent users. It can support 1.5 million unit sales and 15 million unit service entries per year.
This system greatly enhances user interface, business process workflow and faster response times. It also provides real-time and accurate data that enables frontliners and Astra's management to make data-driven decisions to improve customer experience and overall business performance.

The Enterprise Software was also designed with zero downtime as system availability is a top priority for Astra. This system has self-healing and scale-out capabilities that allow it to recover from failures and adapt resources based on demand fluctuations. The automation has also eliminated manual deployment of tasks and reduced the time to make new features and improved overall system stability and reliability.

As of August 2023, these apps have already been running operationally and serve 20 branches and 1,500 users and are expected to serve another 40,000 users in the next 2 years.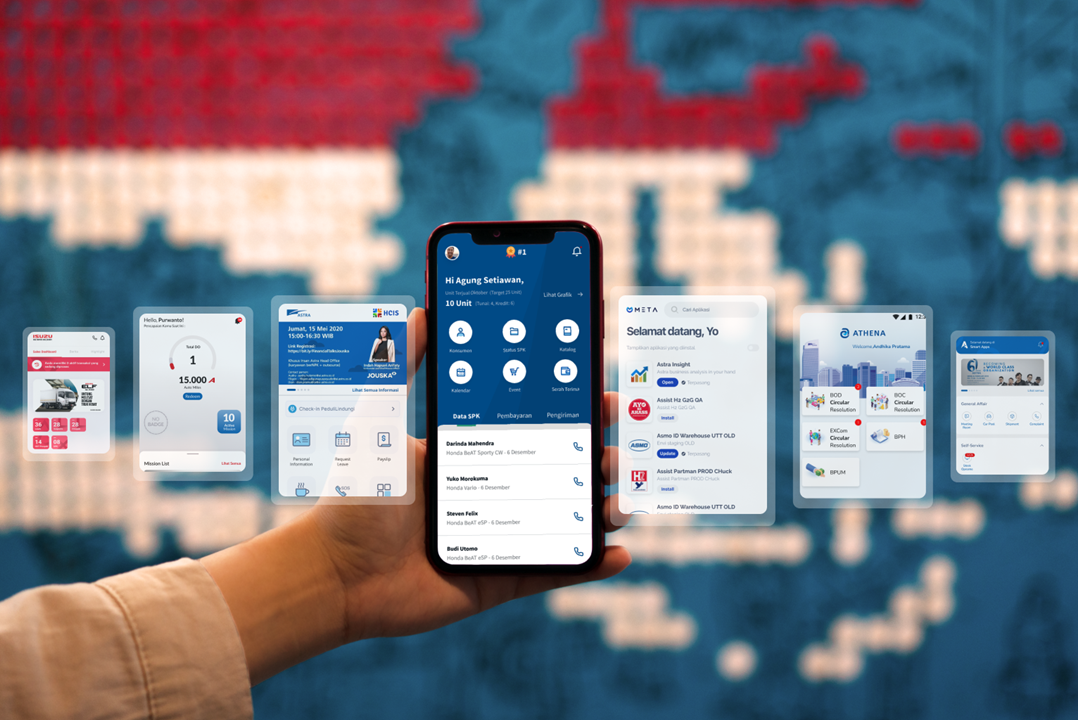 Astra is also at the forefront of innovation in mobile technology, having won the Mobile - Automotive Services category with their enterprise app store which streamlined app distribution, serving over 40,000 users across 25 companies.

Astra started exploring mobile app development 12 years ago and since then has focused on reshaping the conventional Automotive Sales and After-Sales frontline processes into mobile apps. Whilst doing so, Astra was transforming the business processes to be more customer-centric by eliminating middlemen and empowering frontliners i.e.: the salesman and service advisors, to be more intimate with the customers. The mobile apps greatly improved user interface by simplifying many business processes, and information access and bringing many back-office features allowing frontliners to proactively respond to customer needs and requests. The mobile apps also provide real-time business process progress status to the frontliners including embedding AI capabilities to support frontliners to settle all the necessary tasks upfront. Henceforth our frontliner's productivity significantly improved.

For example, the Mobile Salesman app equipped sales representatives with the necessary tools to carry out their workflows more effectively with real-time information access to customer and back-office business data and improve their sales performance. The Mobile Service App is also beneficial to service supervisors, mechanics and field service personnel as this provides them with streamlined task management capabilities, and real-time access to required data and information, allowing our frontliners agility to accomplish their tasks faster and more efficiently. Cross-collaboration to serve our customers better between frontliners i.e., salespeople and mechanics is also possible and has been done through the convenience provided by mobile technology. Mobile applications have revolutionised employees' engagement with their daily activities, allowing them to carry out their duties more ease and effectively.

The relaunch of the internal app store in 2021 also ensured a secure environment for internal users and created a more efficient distribution process as it allowed employees to easily discover, download, install and update the required apps. This Internal App Store contains over 150 applications that contribute to improved app management and usage across organisations.

Mobile applications are available in the public apps store such as Digiroom by Auto2000 and DaihatsuKu were also developed to create intimacy and improve customer experience that directly integrated with the back-office process and our frontliners and create a seamless experience for our customers when they use and interact with Astra products and services. The user-centric design of the consumer applications solidified Astra's position as a customer-focused organisation that is set for continued growth in the ever-evolving digital landscape.

Astra Group continually elevates the digital ecosystem, business portfolio and digital competencies to accelerate development into a modern and sustainable organisation. In 2022, Astra launched a new sustainability framework which contains Astra 2030 Sustainability Aspirations. It will guide Astra in the transition journey to be a more sustainable business by 2030 and beyond. Astra wishes to contribute to the strength and resilience of the Indonesian economy whilst supporting an inclusive and prosperous society.

The Asian Technology Excellence Awards is the top awards programme in the region dedicated to giving recognition to the most exemplary technological projects and innovations. It aims to recognise exceptional companies that stood out amidst the digital disruption wave and led the digital and technological revolution in their respective industries.
The Asian Technology Excellence Awards is presented by Asian Business Review. To view the full list of winners, click here. If you want to join the 2024 awards programme and be acclaimed for your company's outstanding retail initiatives, please contact Jane Patiag at [email protected].